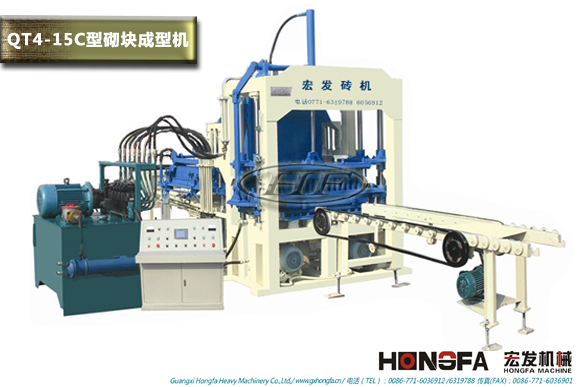 ---
QT4-15C type automatic hydraulic brick machine as long as the mold
can produce highway shoulder, river brick, slope protection brick, square brick, dock brick, grass brick and other products, a multi-purpose machine.
The equipment is a combination of low frequency feeding, high frequency vibration,
hydraulic high pressure die and table vibration, so that the concrete block is quickly formed in two to three seconds, and the finished block is produced with high density.
Hydraulic proportional control technology can easily control the pressure and oil volume of any branch of the hydraulic system, so that different raw materials can be used to produce the same high-quality products.
The whole production process of cement products is controlled by automatic PLC intelligent, equipped with data input and output device to achieve reliable man-machine dialogue. The control system also includes safety
logic control and fault diagnosis system. Integrated oil circuit system, using standardized mode, high life, low energy consumption design. The vibration system is composed of two parts, the platform vibration and the pressure vibration, the product molding fast, good uniformity of compactness. Novel fabric system, accurate feeding, high product density.
Technical parameters:
1, machine appearance size: 6800×1850×2600mm
2, rated pressure: 15Mpa;
3. Main vibration form: platform vibration
4, vibration frequency: 4500-5100 times/min;
5, plate size: 1020×570mm
6, molding cycle: 15-25 seconds/time;
7. Total power: 21.8kw