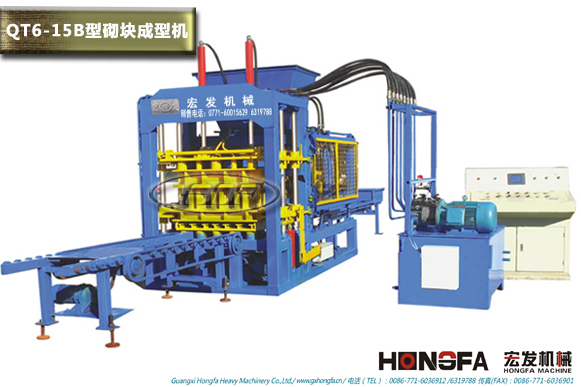 ---
1. Application:
Qt6-15b automatic hydraulic cement brick machine is a special equipment for producing building blocks and layered permeable bricks for pavement. The machine can widely use fly ash, slag or other industrial waste, river sand, gravel, cement and other materials to produce various specifications of hollow block, perforated brick, curb, pavement brick, grass planting brick, ring tree brick, slope protection brick and other concrete products. The fabric adding mechanism can also produce layered products.
2. Features:
(1) This machine is mechanical, hydraulic, computer PLC automatic control integrated technology equipment, with high efficiency, reasonable design, compact structure, simple operation, convenient maintenance. The qt6-15b cement brick machine is mainly composed of hydraulic, mechanical and vibration pressure. The compressive strength of the block products can reach more than 15MPa, with high compactness, good frost resistance, impermeability, sound insulation, heat insulation, accurate dimensions, good product consistency and low waste rate.
(2) This machine is designed and manufactured in accordance with JC / t920-2003 "building materials industry block forming machine" professional recommended standards.
(3) High degree of automation, intelligent electronic control, automatic process PLC (programmable logic controller) intelligent control, equipped with product process data input, storage, touch screen, ideal, flexible human-machine dialogue interface. The automatic control system includes safety logic circuit to control action interlock and fault diagnosis system.
(4) The hydraulic system has the advantages of good reliability, perfect technology, excellent hydraulic parts, reasonable hydraulic system design, independent integrated hydraulic pump station, avoiding the influence of vibration and dust of the main engine on the hydraulic system, so as to ensure the reliability of the hydraulic system.
(5) With good adaptability of raw materials and step-by-step vibration molding technology, various kinds of waste ash and slag can be used according to local conditions to produce various high-quality load-bearing or non load-bearing block products with reasonable reduction of cement consumption.
(6) The equipment has strong adaptability. By simply changing the mold, the product production can be quickly adjusted to meet the market demand to a large extent, so that the equipment can play a better role.
---
Technical parameters:
(1) Overall dimension: 5120 × 2000 × 2800 mm
(2) Rated pressure: 7-9 MPa
(3) Main vibration type: platform vibration
(4) Vibration frequency: 4500-5100 times / min
(5) Vibration acceleration: 15-20g
(6) Exciting force: 380kn
(7) Dimension of supporting plate: 880 × 680 mm
(8) Product height: 50-200 mm
(9) Molding cycle: 15-25 s
(10) Power: 26.25 kw
(11) Total weight: 6200kg
(12) Main product specifications and output